One of my resolutions this year was to make room for more creativity in my life. You see, I promised myself I would be a bit selfish and put myself first for a change. And I did it by giving myself the permission to make art. Every day.
"To practice any art, no matter how well or badly, is a way to make your soul grow. So do it!" ~Kurt Vonnegut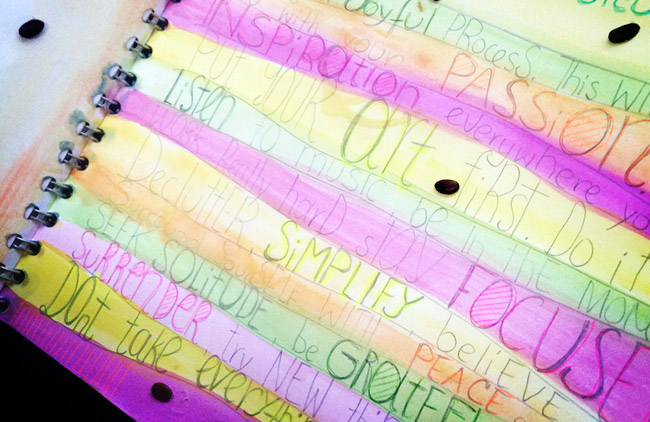 Art has been my passion ever since I was a kid, but I had constantly pushed it aside as more pressing matters took over my day to day. You know, things like handling that design gig, putting dinner on the table, and putting band aids on scraped knees (sometimes all at once).
After all, who has time for making art when you're wearing a ridiculous number of hats already, right? But consider what happens when we subscribe to the "all work and no play" attitude. Is that the life you want to live?
Frankly, I want to live a life where my focus, my attention, is on things that most closely align with who I am. And I am a creative.
"Art washes away from the soul the dust of everyday life." ~Pablo Picasso
As it turned out, the time was easier to find than I thought. It was a matter of simplifying while staying true to my top 3 priorities: family, creativity, and inner peace. For example, I deleted "Candy Crash" and replaced gained time with doodling – both were just as relaxing but only one aligned with my priorities (creativity). That got me inspired to keep going.
I was motivated enough to stay determined and not give in to binge-watching TV (mostly); this became easier (and more automatic) over time. In the end, I just had to belief that I, too, deserve to fulfill my passions (in however small steps, like a doodle a night).
Not only that, art became my therapy, my escape from the daily grind and brain chatter, my looking at the world differently, my personal walk into the abyss where I could let go of control and just be.
//
We mothers tend to do put others' needs ahead of our own all the time. If left unchecked, this can leave us unfulfilled, uninspired and even resentful. But we matter too. We have our wants and needs, dreams and passions.
This year, I'm committing to being creative and making art every day, whatever form it takes. Photography, scrap booking, journaling, doodling, painting, writing… the possibilities are many. Whether I have only few minutes or are blessed with hours of time, I'm dedicated to making art every day. And since angst can lead to better art, this should be a fun ride.
How big a role does art have in your life?